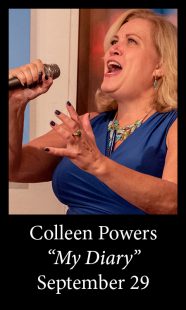 West Warwick,RI
September 29, 2020
7:30 PM

Price: suggested donation $20
Buy Tickets
"My Diary"
 Brash, bawdy and unapologetically outrageous, the Dame (as she affectionately named herself) charms audiences with her repertoire of standards, show tunes, 70s pop and an occasional off-color remark (or ten). In "Dear Diary," Colleen shares the ups and downs of her life in this reboot of the touching, poignant and blisteringly funny solo show that first put her on the map.  
This performance is recommended for mature, discerning audiences.
 Colleen Powers, AKA "The Dame" is a one-of-a-kind New England treasure. She's outrageous, irreverent and bawdy. Don't let her act fool you, though. Behind all that sass? There's class and there's intelligence. Colleen Powers is a mix of Don Rickles and Bette Midler chased by a shot of old fashioned Irish humor.  She is, in one word, unforgettable. That's her! Colleen can be seen every Sunday evening at Club Café in Boston, hosting her own, weekly cabaret show and open mic with Jim Rice on the piano.  She has been a cabaret icon in Boston for over two decades!
The Cabaret Club at The Arctic Playhouse is going VIRTUAL.  Join all of your friends from the comfort of your computer to witness this great line-up of shows.  All of these performances are open to the public, with a $20 suggested donation that can be made in advance or the evening of the performance via multiple platforms.
.
To make a donation via the website please click button:
To donate via VENMO: @thearcticplayhouse