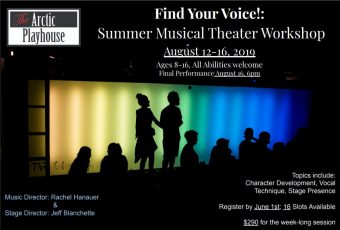 Directed by: Rachel Hanauer
West Warwick,RI
August 12 - 16, 2019
9:00 AM

Price: $290
Buy Tickets
Monday- Friday August 12th – 16th
840-9am Drop-off
1pm-1:15pm Pickup
Except Friday which will be 9-6pm Show: 6pm on Friday August 16th Bring your own lunch, Snacks provided
$290 per camper
Ages: 8-16
Musical Theater Scenes – Chosen to fit the students
Building Skills!
Acting: Character Development, Memorization, Improvisation, Comedic Timing, Stage Presence Singing: Vocal Technique, Music Reading Skills, Projection & Diction, Showmanship
Audition Skills: Audition technique workshop
This summer, the Arctic Playhouse will present a 1 week, 5 day summer Musical Theatre
Workshop called "Find Your Voice!". Playhouse veterans Rachel Hanauer and Jeff Blanchette invite performers of all abilities ages 8-16to attend. Topics to be covered include character development, vocal technique and stage presence. The camp will culminate in a variety show performance of scenes from the musical theater repertoire.
Dates:August 12-16, 2019.Times are Monday August 12-Thursday August 15 from 9am-1pm & Friday August 16 9-6pm with performance at 6pm.
Snacks will be provided and students bring their own lunches. Sign up by June 1st.  Only 16 slots available, sign up in advance is recommended. $290 for the session.
There's a voice inside you, and we can't wait to hear it!