Bermuda Avenue Triangle
By: Joseph Bologna, Renee Taylor
Directed by: Tony AnniconeStage Manager: Christopher Ferreira
Auditions Wednesday, December 11, 2019 at 7:00pm
Location: The Arctic Playhouse, 117 Washington Street, West Warwick
Performance Dates: February 27 thru March 18
Evening Performances: 7:30 pm Sunday Matinees: 2:00pm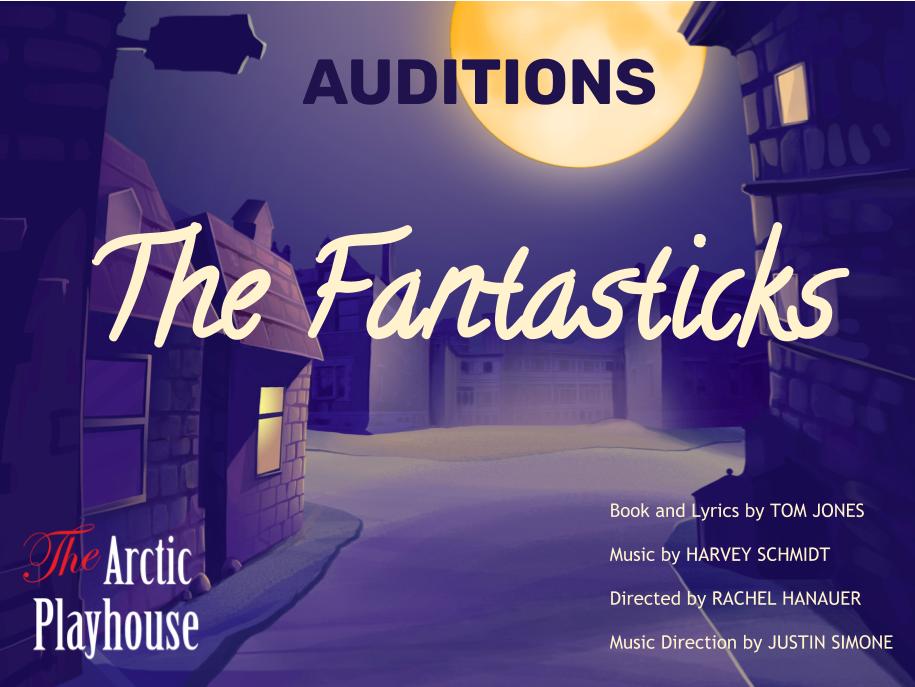 The Arctic Playhouse is holding auditions for "The Fantasticks" – musical by Tom Jones/Harvey Schmidt.
Directed by Rachel Hanauer; Music Directed by Justin Simone

NOTE: This production will more than likely be GENDER BENT based on who auditions, so PLEASE audition even if you don't see a role that fits perfectly! Particularly the characters of El Gallo, or either of the father's (or both).

Wednesday December 18 – 6-9pm

Please bring 1-2 musical theater songs (32 bars or less each)
that showcase your vocal range and ability, preferably in or close to the style/era of the show. A pianist will be provided.
Please also expect to read from the script.
Auditions at 1249 MAIN ST. LOCATION (Park and enter in the rear of the building!

Sign up here: https://www.signupgenius.com/go/10C0D48AFA729A4F85-auditions1

Show description and characters:
CASTING
The Boy (Matt) – Baritone
The Girl (Luisa) – Legit Soprano
The Narrator (El Gallo) -Baritone (or mezzo soprano/soprano)
The Actor (Henry) – Spoken part
The Girl's Father (Bellomy) – Baritone (or mezzo soprano)
The Boy's Father (Hucklebee) Baritone (or mezzo soprano)
The Man Who Dies (Mortimer) -Spoken
The Mute -Either Gender- Spoken

Whimsical, poignant, and romantic, The Fantasticks is an allegorical story that focuses on two young lovers, their meddling fathers, and the journey we all must take through adolescent thrills, the growing pains of hurt and betrayal, the highs of passion, the challenges of distance, and the agonies of heartbreak to discover how to truly love. In a theatrical and inventive fashion, our gallant and enigmatic narrator–El Gallo–introduces us to a pair of young lovers, Matt and Luisa, who experience the magical, moonlit phase of falling in love. For a time, romance seems perpetually exciting, and heroics seem always to save the day. However, El Gallo leads our young protagonists from the romantic moonlight into the harsh sunshine, where the weaknesses in their relationship are exposed and the reality of the struggles and heartache love brings is revealed. With the understanding that "without a hurt the heart is hollow," Matt and Luisa manage to find their own identities, and in turn, to discover their strengths as a couple in times of both darkness and light. With the record for the longest American theatrical run, The Fantasticks is a gem of the American musical theatre. Featuring timeless classics like "Try to Remember" and "Soon It's Gonna Rain," this simple and beautiful ensemble piece is as beloved and as timely as it was when it opened over 50 years ago.


Performance Dates: March 26- April 11, Thursday-Sunday
Rehearsals: 1-2 rehearsals a week starting mid January ; 2-3 a week starting in March. Tuesday/Wednesday/Friday/Sunday rehearsals likely. TBD based on cast availability. Some weekend rehearsals. Read-through TBD.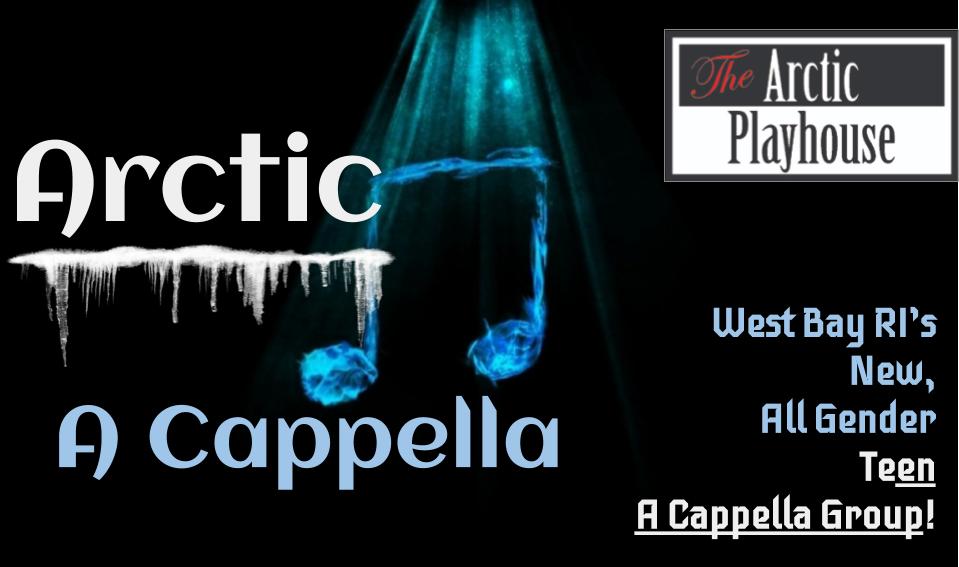 Arctic A Cappella – Teen Auditions
Saturday, December 14th; 9:30am-11:30am
Please bring a solo excerpt to sing (anything is fine!) … please bring an accompaniment track if needed, but singing a cappella is great too!
Starting in January!: Registration Open December-January
Teens Ages 13-19
Rehearsals Thursdays; 4:30 – 6PM
Sign up for an audition slot here: https://www.signupgenius.com/go/10C0D48AFA729A4F85-auditions2
Questions?
Contact Music Director: Sarah "Crikkett" Young
Email: arcticplayhouseeducation@gmail.com
The Arctic Playhouse offers an a cappella ensemble open to all genders and voice parts, ages 14 to 19. Members will learn to sing a range of repertoire from classic styles to current pop hits, and even original songs written by the group! Performances will take place at an Arctic Playhouse venue in Veteran a cappella director Crikkett Young leads this group of up to twenty singers in weekly meetings, varying in focus between technical workshops, songwriting/arrangement and of course rehearsals in preparation for the big show!
Direction by Crikkett Young (Girls Rock, RI; RI Philharmonic Music School, St. Georges School)
February 27, 28, 29
March 1, 6, 7, 8,12, 13, 14, 15
ROLES:4 Women, 2 Men. 2 women 50's 2 women 30/40's 1 man 50's 1 man 40
To Prepare: Auditions will consist of cold readings from the script.