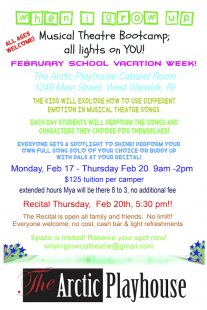 Directed by: Mya Lemery
1249 Main Street
West Warwick,RI
February 17, 18, 19, 20, 21, 2020
9:00 AM

February School Vacation Week.
The Arctic Playhouse Cabaret Room @1249 Main Street.
Explore how to use different emotion in musical theater songs.
Each day students will perform the songs and characters they choose themselves.
Everyone gets a spotlight to shine!
Perform your own full song of your choice or buddy up with pals at your recital!
$125 per student
Recital is open to all family and friends at no cost.
Space is limited, reserve today!
whenigrowuptheatre@gmail.com