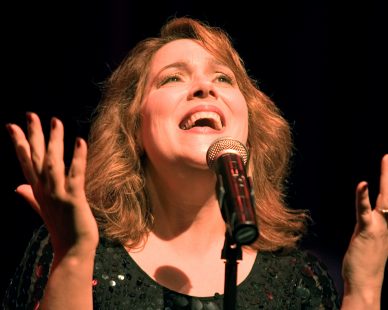 West Warwick,RI
April 26, 2022
7:30 PM

Price: $20
Buy Tickets
In this tribute, longtime friends and musical partners, Valerie Sneade-Roy and Jim Rice pay tribute to this Grammy and Emmy award winning couple,  Steve Lawrence and Edyie Gorme, whose love for one another is eclipsed ONLY by their musicality. Songs celebrated include "This Must Be The Start of Something", "Make Someone Happy", "A Lot of Living", "What Did I Have", "A Room Without Windows" and many more.
Jim Rice:  (music director/arranger/ pianist), of New York City and Boston, is an accomplished and diverse music director, arranger, and pianist of many styles. Jim has performed in hundreds of theaters and concert halls throughout Europe and in every state except Hawaii. Abroad, Jim has been the musical conductor for the European-Broadway tour of Ken Hill's Phantom of the Opera, as well as pianist for the Broadway production of Grease in Zurich. He has also toured nationally with Man of La Mancha and Camelot.
Mr. Rice is the creator and music director for a tribute show, Primavera!, which celebrates the Las Vegas years of Louis Prima & Keely Smith. Primavera is backed by a seven-piece band and was honored with the 2005 IRNE award. Primavera has been performed at numerous premiere venues including The Big Arts Theatre in Sanibel Island, FL and The Fox Theatre at Foxwoods Casino in CT.
In 2009 he musically directed "Dear Miss Garland" at Stoneham Theatre in Massachusetts for which he also provided arrangements and orchestrations. It will be reprised there this summer. With director Russell Garrett, he was co-creator of "Holiday At The Hills " at the Worcester Foothills Theatre. Other regional theatres Jim worked at include The American Stage Festival (NH), Olney (MD), North Shore Music Theatre (MA) Kansas City Starlight (MO); The Tennessee Williams Fine Art Center (FL); San Carlos Opera House (FL), Ogunquit Playhouse (ME) as well as The Westside Arts and Westbank Theatres (NYC).
For Ida Zecco Jim performed her critically acclaimed Estro-gin & Tonic in Boston and NYC, Thanks for the Mammaries and orchestrated her show "Songs For The Season" for her guest performances with The Thayer Symphony Orchestra (MA) and Charlotte Symphony (FL). For John O'Neil he wrote the orchestrations for Back To Ennnniskillen and So Kaye: The Songs of Danny Kaye which have been performed at a multitude of venues throughout the country including MusicFest, one of the country's largest music festivals in Bethlehem, PA.
Cabaret rooms he has played include The Duplex and Dannys Skylight in NYC, and The Cosmopolitan Club in New Hope PA. Localy in Boston he has appeared at the Regattabar, Ryles, Skullers Jazz Club, and every available Sunday at Club Cafe with Colleen Powers.
Jim has also musically directed and arranged numerous shows for Valerie Sneade including "The Streisand Songbook" recently performed with the Charlotte Symphony for which he was also a featured soloist. As arranger for her debut CD Let Me Be Strong. Jim received great critical acclaim for his work. His arrangements have been described as "marvelous" by The Boston Herald and "sophisticated and richly-crafted" by Cabaret Scenes in New York City.
Jim regularly contributes orchestrations to the Key West Florida POPS for Female Impersonator Extraordinaire Mr. Randy Roberts. Jim has written numerous orchestrations for singers including Broadway's Brent Barrett, Terri White, Debbie Gravitte, and Leroy Reams. These arrangements have been performed by many orchestras including the Festival of the Atlantic in NJ; Thayer Symphony in Leominster, MA; Las Vegas Philharmonic The Hartford Symphony, Plymouth Symphony, and the Albany Symphony, NY.
Valerie Sneade-Roy:  Valerie has performed to packed houses across the nation … on stages ranging from The Grand Ole Opry to top-level nightclubs in New York City and Boston. She has been cast in Equity musical theater productions where she shared the stage with Broadway stars … and she has sung with symphony orchestras from Massachusetts to Florida. Valerie's voice and style have often been compared to the likes of Barbra Streisand, Liza Minnelli and other megawatt stars, but she has a sound and style all her own. A belter and a soprano – with a two-and-a-half-octave range! – she can just as effectively whisper a lilting ballad as knock a show tune out of the ballpark. An all-around entertainer, Valerie complements her superb vocal talents with a disarmingly wacky sense of humor that charms and engages her audiences – not to mention leaves