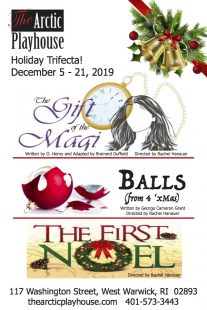 Written by: O. Henry / George Cameron Grant

Directed by: Rachel Hanauer
117 Washington Street
West Warwick,RI
December 5 thru 21, 2019
7:30 PM

"Gift of the Magi" is about a couple who are young, terribly in love, and flat broke. Finding a gift that will express the warmth and closeness they feel for each other is almost impossible. This bittersweet love story describes the gifts Della and Jim give, and the price they have to pay. Their folly, however, makes them even richer. This is a beautiful, sympathetic, and warmly human account of O. Henry's well-known story.

Balls," by George Cameron Grant, is a hilarious conversation between five multi-colored Christmas ornaments with strong personalities tucked snugly in a box.

"The First Noel" : A homeless and hungry Noel returns to the site of her childhood, now a Chinese take-out, but will her journey get her the handout she wants, or the nurturing she needs?