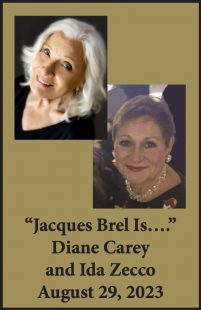 West Warwick,RI
August 29, 2023
7:30 PM

Price: $20
Buy Tickets
'Jacques Brel Is…." Presents the music and storytelling of the famous Belgium singer/songwriter and activist, Jacques Brel.  Borrowing from the famous off-Broadway show, "Jacques Brel is Alive and Well and Living in Paris," English translations by Eric Blau and Mort Shuman, Brel's music and poetry which was so popular during the 60's and 70's during the time of the Viet Nam War and the struggle for Civil Rights, are as relevant today as they were then.  With humor, passion, biting wit and arrangements by Jim Rice, Music Director, this is a night not to be missed!
A native of Massachusetts, Diane Carey is now a Rhode Islander who performs all over New England. Her warm contralto sound blends jazz and cabaret style elements with emphasis on the personal meaning of the song story. She is noted for her diverse repertoire that draws from the American Songbook, Broadway shows, contemporary pieces and French songs. Besides performing at numerous New England clubs and restaurants, she has delighted audiences with a number of cabaret shows including a New York debut of a 2 woman Beatles cabaret "All You Need Is Love". She released her first CD "He Loves Me, He Loves Me Not" in 2014.
Music and singing have been significant in Diane's life since discovering her vocal abilities in early childhood.  She sang in church and school choirs and was featured in solo and lead roles in grade and junior high school shows.  High school and college found her performing in the folk music genre accompanying herself on guitar.
Following college, she was vocalist in a jazz quintet playing clubs and restaurants on the South Coast of Massachusetts.  After a brief time in Illinois, Diane moved back to the Boston area and worked clubs with jazz trios as well as performing in community theatres. The work inspired her to further develop her vocal and acting skills.  She studied acting methods at the South Shore Conservatory with Ellen Kelly and attended Jeanne Lindheim Acting Studios.  She continued to be coached in vocal and cabaret techniques by Broadway veterans, Teri Ralston and the late Karen Shepard and in jazz methods by the late Rebecca Parris.  Diane completed the prestigious "Art of Cabaret" program under the direction of Andrea Marcovicci, Karen Mason and Barry Kleinbort.
Rhode Island Performance venues include the Music Mansion and Sidebar Bistro in Providence, Dewolf Tavern and Blithewold Mansion in Bristol, the William Hall Library and Ocean State Theatre in Warwick, Simply Devine Restaurant in Warren, the Arctic Playhouse in West Warwick and Rhodes on the Pawtuxet in Cranston.  In Massachusetts: Ryles Jazz Club, the Club Cafe in Boston, the Multicultural Arts Center and The Blacksmith House in Cambridge,  Amazing Things Arts Center in Framingham,  the Grand Cru in Hyannis, the Airport Grille in New Bedford. and the Wadsworth Atheneum in Hartford, CT,.   Diane was also featured at the 2011 Provincetown Cabaret Festival and was honored to be featured on vocals with the SouthCoast Jazz Orchestra at the 2013 New Bedford Jazz Festival.  Diane has also performed with the Boston based New England Cabaret Theatre and as a chorister with the South Coast Community Chorus.
"Tall and leggy, Diane's looks belie her intelligence and preparation: she comes to the stage full of sophisticated musical and textual choices. A true fan of "The American Songbook", Diane demonstrates what the standards are all about with her soulful spin on the familiar. An iconic throwback to the days when being a girl singer really meant something. "
              -Gina Zollman, Cabaret Reviewer, The Beverly Hills Outlook dianecareysings.com
Ida Zecco (actor/singer/director/producer/coach/educator) is a member of Screen Actors Guild. A native Rhode Islander, Ida earned her Bachelors of Music in voice at the Mozarteum University, Salzburg, Austria, and completed a Masters in Music Therapy at the Orff Institute, Salzburg, Austria.  She later acquired a Masters in Fine Arts in acting and directing at the London Academy of Music and Dramatic Arts, London, England.  She studied at the Actor's Studio, NYU and with Uta Hagen at HB Studio in New York City, New York.
Over the last 20 years, Ida has been appearing in several, one-woman performances that she has written and created, accompanied by her Musical Director, Jim Rice, in theaters across the U.S.  Her performances combine music, theater and stand-up comedy. Her unique storytelling offers down-home humor with heart-felt narrative.Her last two productions, "Estro-Gin & Tonic and "Thanks for the Mammaries" were performed to sold-out audiences at the former Ocean State Theater, Warwick and across the country.
She has a long list of regional theater roles in and round New England.  To Boston audiences she is most known for her roles asBarbara DeMarco, Mrs. Shubertor as Sgt. Mikey Thomasin Shear Madness, at the Charles Playhouse.  Other performance venues include Jordan Hall, Regattabar, Scullers Jazz Club, Stoneham Theater, Providence Performing Arts Center, Columbus Theater, and in NYC; Carnegie Hall, Alice Tully Hall, Danny's Skylight Room, The Duplex Cabaret Theater, Town Hall, and numerous stages and opera houses throughout the world, particularly in Europe.
Her first successful CD release A Song forChristmaswas followed by a second release, Better to Have Loved… both have received high, critical acclaim from Cadence Magazine, Cabaret Scenes Magazine, InTune Magazine International and New England Entertainment Digest (NEED).
Ida is a recipient of Best Female Vocalist Award by Independence Reviewers of New England (IRNE)
You saw Ida in The Arctic Playhouse (TAP) production of "Lost in Yonkers" in the role of Grandma Kurnitz. She also directed the much acclaimed TAP production of "Steel Magnolias."
Ida she has four loves: her daughter, Lauren, her two grandsons, Anthony & Dominick and the performing arts.
As well as a master-class artist, coach and educator, she has produces a series of one-woman performances marketed for a broad-based, mature, theater-going audience which is an extraordinary mix of music, theater and comedy. These productions have been performed, and are regularly featured in venues throughout the United States and Canada.
Ms. Zecco's first , internationally successful CD released in 1999, "A Song for Christmas" was followed by a second CD release in September 2002, "Better to Have Loved." which received international acclaim; both CD's are on the SongKeeper label.
Ms. Zecco has entertained at some of the world's most prestigious venues:
Carnegie Hall • Alice Tully Hall • Town Hall • The Duplex • Mechanics Hall • Jordan Hall • Regattabar • Sculler's Jazz Bar • The Park Plaza • The Charles Playhouse • Worcester Foothills Theater Company • Worcester Forum Theater • Trinity Repertory Theater of Providence • Danny's Skylight Room, Town Halll and The Duplex Cabaret Theater in NYC. Music Festivals: Paris, Rome, Milan, La Scala, Spiletto, Prague, Warsaw, Tokyo, Salzburg, Berlin, Cologne, Brussels, Barcelona, Denmark, Helsinki, Beijing, Vienna, Hong Kong, Singapore, Toronto, Montreal, Vancouver