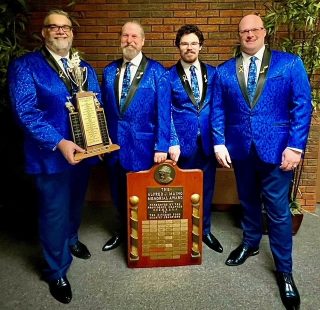 West Warwick,RI
August 30, 2022
7:30 PM

Price: $20
Buy Tickets
2022 Patriot Division Quartet Champions of the Barbershop Harmony Society.  Second Nature performs an eclectic selection of songs, from many decades of popular music, and in many styles.  They have delighted audiences throughout New England and are sure to surprise and delight our audience at the Cabaret Club.
Tenor – Jamie Jones is owner/manager of WCRI, the classical radio station in Rhode Island.  He has been singing Barbershop for over 15 years, studied vocal performance at Boston University, and has worked at Walt Disney World as Prince Charming, a stilt walker, and a puppeteer.
Lead – Robb Barnard is a Performing Arts teacher at Lincoln School in Providence, has a BA in Music from Oberlin College, and an MFA in Theater from the University of Iowa.  In addition to his teaching experience, Robb has toured nationally as an actor and puppeteer, and makes a great cheesecake.  Robb has been singing Barbershop for six years.
Baritone – Mike Savard currently serves as the Executive Vice-President of the Northeastern District of the Barbershop Harmony Society and has been singing in/competing with Barbershop Quartets for over 10 years. He  is a Program Management Consultant and has had a long career in manufacturing and design of medical devices, and now pharmaceutical development, after earning his BS in Mechanical Engineering from RPI.
Bass – Evan Costa found Barbershop in high school, getting involved in the Northeastern District's youth workshops, and then becoming a member of the District's first youth chorus, the G20 Chorus of Fall River.  Evan has spent roughly 1/3 of his life heavily involved in Barbershop, and is currently the Bass Section Leader of Voices United Chorus, an all-voice Barbershop Chorus to which all four of the quartet members belong.  In his non-barbershop time, Evan has an Associate Degree in Computer Science, and is currently studying cybersecurity.