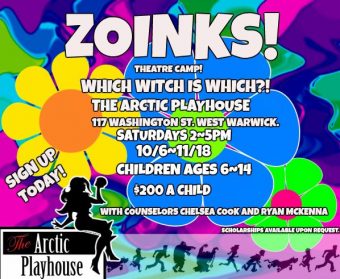 West Warwick,RI
October 6 thru November 18th, 2018
2:00 PM

Price: $200.
Buy Tickets
On Halloween night, the New England town of Salem is being haunted by the witch who was burned at the stake in 1778. After receiving a distressed call, that gang of meddling kids head up to Salem try and solve the mystery. In a town full of suspicious characters the crime solving youth try to figure out if Salem is truly being haunted or if it just a local stirring up some trouble. Be apart of the adventure and sign up to participate in the thrilling comical production of Zoinks!
With Ryan McKenna and Chelsea Cook
October 6th thru November 18th, Saturday afternoons, 2 pm – 5pm
3 performances on November 16, 17 and 18!
$200 per camper. Click here to download the registration form.