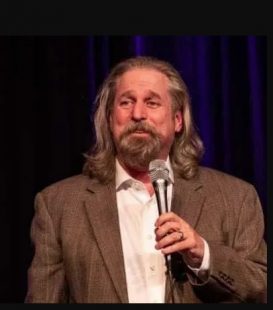 West Warwick,RI
November 29, 2022
7:30 PM

Price: $20
Buy Tickets
Robb Barnard almost brought the house down when he performed for our open mic segment of our Cabaret Club Series, last year.  We just had to bring him back for his first, solo Cabaret debut and we are proud to feature him as a guest artist.  As in this production's title – expect surprises, fun, tears and a beautifully crafted musical, as well as storytelling, experience.
Robb Barnard is an actor, singer, teacher, and coach – and depending on the time of day may put those things in a different order. He studied first at Oberlin College and Conservatory earning a B.A. in Music, then at The University of Iowa where he received an M.F.A. in Theater (Acting)  As a member of Actors Equity, he spent well over a decade touring the country performing for over 100,000 students a year in various productions including seven years with Jim West as a  Puppeteer. For 12 summers Barnard worked in the theater department at Belvoir Terrace in Lenox, MA – teaching and directing girls ages 8-17, and was the department chair overseeing the team of theater artists for many of those years. He is the past Owner /Producer/Director of the Carousel Music Theater in Boothbay Harbor, Maine where he wrote and directed over 15 productions.  A relatively new Barbershopper, Robb found the Providence Chapter of the Barbershop Harmony Society five years ago, and wishes he knew about it sooner! His quartet, Second Nature, is the 2019 Patriot Division Novice Champions, and the 2019 Northeast District Novice Champions, and the 2021 Northeast Division Fifth Place Men's Quartet.  Barnard also sings with Voiced United and is presently teaching a course during their fall semester: Acting a Song.
He is currently the Head of Performing Arts Department at Lincoln School in Providence, RI, coordinating the department and figuring out how to keep the creative juices flowing in everyone during times of COVID. In 2018 he was acknowledged as the teacher of the year by Lincoln with the Dorothy Gifford Chair Award.  Past performance roles have included Higgins and Doolittle in My Fair Lady (separate productions,) Pseudolis in A Funny Thing…, Snoopy in Snoopy, Valere in La Bete, and Cal in The Art of Dining.  He lives in Providence, RI with his Husband, Doug, and too many houseplants.