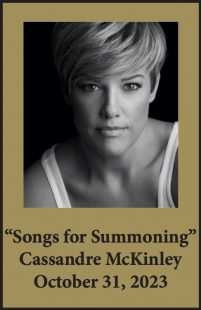 West Warwick,RI
October 31, 2023
7:30 PM

Price: $20
Buy Tickets
It is Halloween!  And what better way to spend it then with New England's most beautiful and bewitching songstress, Cassandre McKinley.  Cassandre has prepared an evening of entertainment so enchanting that it will make you howl at the moon!
Photo and Bio
A steward of re-invention and interpretation, acclaimed vocalist Cassandre McKinley, is an artist that channels a vast spectrum of genres that include jazz, soul, country and classic R&B, unified into a singular sound that is both spontaneous and free from stylistic boundaries. This has become her signature approach to making music, presenting a rich and acutely diversified mix of music by way of a sublime voice and a veritable gift for storytelling.
McKinley has released five solo recordings and while touring and performing regularly, is also an Associate Professor of Voice at Berklee College of Music in Boston and Berklee Online.
For more information: www.cassandremckinley.com