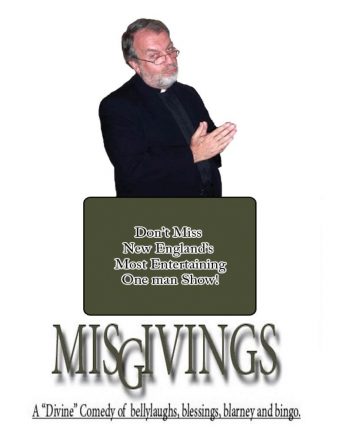 Written by: Dave Kane

Directed by: Dave Kane
West Warwick,RI
April 26 and 27, 2019
7:30 PM

Price: $13 / $18
Buy Tickets
Join Father Patrick Aloysius Misgivings for this divine presentation of stories and one liners about growing up Catholic. From miracles and marriage counseling to bazaars and birth control, nothing escapes the good father
s razor sharp Irish wit. This hilarious, interactive comedy includes. collection, a raffle and even an actual Bingo game.
Doors Open: 7:00pm
Showtime: 8:00pm
Dave Kane is an American radio talk show host, comedian, performance artist, and author. Kane was born in Pawtucket, Rhode Island and currently still makes his home in the Ocean State.
Nicknamed "The Pitbull of comedy" in the 1980s during his time as a stand-up comedian, Kane is known for his passionate, sometimes confrontational style of talk radio, urging people to stand up for what they believe in and to take action in the face of injustice.