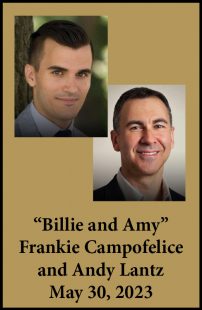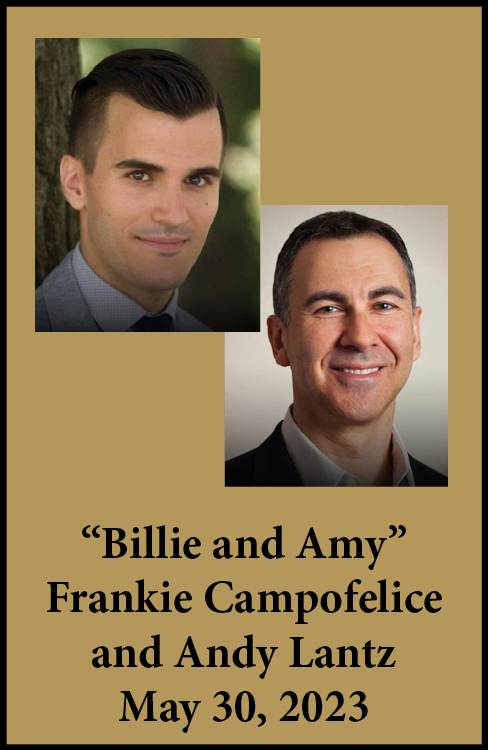 West Warwick,RI
May 30, 2023
7:30 PM

Price: $20
Buy Tickets
"Billie and Amy:"  Frankie Campofelice (vocals) and Andy Lantz (piano) pay tribute to Billie Holiday and Amy Winehouse. These two troubled singers left a legacy of exquisite music that reminds us of the full range of human emotions.
Singer Frankie Campofelice and accompanist Andy Lantz delight audiences every Thursday night at the Napoleon Room, a piano bar and cabaret in Boston's Club Café. Their "Lush Life" residency there offers a mix of Great American Songbook classics, Broadway, jazz and pop to a devoted following. Frankie and Andy are excited to be performing at the Arctic Playhouse!
Frankie Campofelice
A native of Buffalo, New York, singer and vocal pedagogue Frankie Campofelice earned his Bachelor of Music in Vocal Performance as well as his Masters in Music Education and Vocal Pedagogy at the Boston Conservatory. Frankie is a proud member of the voice faculties at the Berklee College of Music and Dean College. He has also been on the voice faculty at Salem State University as well as the Berklee Institute for Arts Education and Special Needs. In addition to his "Lush Life" residency with Andy Lantz since 2018, he has performed with various choral and a cappella ensembles within the metro Boston area including Cappella Clausura, Nightingale, Labyrinth and Redline.
Andy Lantz
Since the Napoleon Room's opening in 2010, Boston-based pianist Andy Lantz has transformed the venue into an elegant supper club with his jazz interpretations of Great American Songbook classics at his "Lush Life" night. In 2018, Andy teamed up with vocalist extraordinaire Frankie Campofelice and "Lush Life" became a duo act, adding Broadway, pop and other styles into the eclectic mix, along with irreverent banter between the two hosts. Andy also plays regularly at Standish Village Assisted Living at Lower Mills and is the pianist in the Western Massachusetts-based world-jazz band Les Boulevardiers. He has performed at Ryles, the Harvard Art Museums, the Boston Museum of Fine Arts, and at numerous other venues.