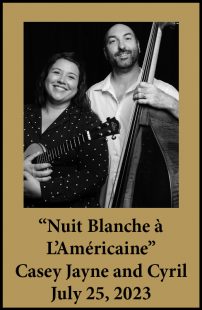 West Warwick,RI
July 25, 2023
7:30 PM

Price: $20
Buy Tickets
"Nuit Blanche à L'Américaine" – Spend the evening suspended in time and space- between the classics of French repertoire, the American golden age and popular hits, spotted with modern winks and the classics revisited.  The Cabaret Club has gone INTERNATIONAL!
Photo (please use stage photo) and Bio:
La Méchante et le Connard are a Franco-American duo of ukulele, double bass and voice… did you say ukulele? Yes, ukulele. Casey Jayne and Cyril spend the year in Sancerre, France, touring the country for concerts, festivals and events, everything from the Cannes Film Festival to local concerts.  Each summer, they travel to Newport, Rhode Island, Casey's hometown, playing more festivals and concerts. The acoustic duo plays warm and fun music, all with an elegant French touch.  The repertoire is a mix of jazz age standards and popular hits, arranged specifically for the instrumentation.  Unique arrangements and fresh takes on all the songs you already love will have your toes tapping, your face smiling and singing along. For those who are not francophone, please do google the name, but don't worry… on est gentils!
For more information:  www.mechanteconnard.com