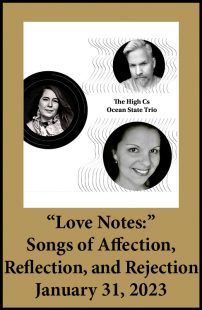 West Warwick,RI
January 31, 2023
7:30 PM

Price: $20
Buy Tickets
"Love Notes:"  Songs of Affection, Reflection, and Rejection
The evening will transport The Cabaret Club audience through different periods of music and genres to tell tales of love won and love lost.
Heather Niemi Savage – Collaborative Pianist and Composer
Heather Niemi Savage is an accomplished collaborative pianist and composer. She has performed throughout southern New England with various choral groups, chamber ensembles, soloists, and musical theater productions. Her compositions have been performed in several states, featured on the radio programs, "Classical Discoveries" and "Music of Our Mothers," and recorded on two internationally renowned record labels. Heather also maintains a private teaching studio and hosts the podcast, "The Musicking Community."  Heather currently lives in Richmond, RI with her husband and two grown children that are in college.
David LaPrairie –  Tenor and Pianist
David LaPrairie is an accomplished singer and instrumentalist. He received his BFA from Eastman School of Music in Vocal Performance with a concentration in Opera. He has performed throughout the United States and in Europe, most notably on the stages of Carnegie Hall and Lincoln Center in NYC, in Les Misérables as Marius, and the State Opera House in Vienna, Austria. He also founded a musical group dedicated to the performance of musical theater at his alma mater which just celebrated its 25th anniversary this year. David currently resides in Riverside, RI with his partner, Charles, and their two fur-children, Louie and Mae.
Kristen Cronin – Soprano
Kristen Cronin is a graduate of the Hartt School of Music, where she studied voice performance and arts administration. She has been a member of several choral groups including the Providence Singers, Back Bay Chorale, The Dickens Carolers, and the Greater Tiverton Community Chorus, where she has been a featured soloist in Kim André Arnesen's "Magnificat" and Joseph Haydn's "Missa Brevis Sancti Joannis de Deo."  She has also performed in the Hartt School's productions of La Traviata and Carmen. Kristen lives in Tiverton, RI with her family.