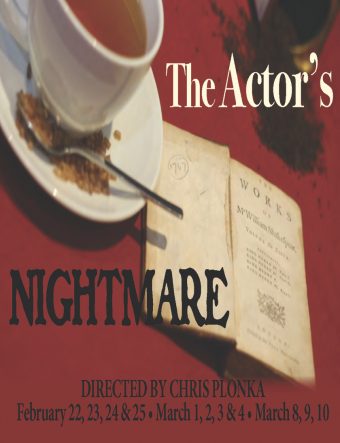 Written by: Christopher Durang

Directed by: Chris Plonka
West Warwick,RI
February 22, 23, 24, March 1, 2, 3, 8, 9, 10 @ 8 pm, 2018
February 25 and March 4 @ 2pm, 2018
8:00 PM

Sister Mary Ignatius, a teaching nun who is much concerned with sin in all of its various forms, delivers a cautionary lecture to her charges. One of them, a precocious little boy named Thomas, can quote the Ten Commandments on cue, and each time he does so Sister Mary rewards him with a cookie. But when several of her former students turn up the picture darkens, along with Sister Mary's indignation. One of them is the happy mother of an illegitimate child; another a contented homosexual; still another has had two abortions—the first after having been raped on the night of her mother's death; while another student, now an alcoholic, contemplates suicide. their stories are disturbing— but also very funny—and it is quickly apparent that one thing they all have in common is their loathing for Sister Mary and the unyielding dogma which she forced on them in their formative years. In the end there is mayhem and bloodshed but, with this, the unsettling feeling that, amid the laughter, some devastating truths have been told.
CONTENT WARNING
The Arctic Playhouse (TAP) provides live dramatic entertainment nightly in order to show audiences content they've never seen, or thought they've wanted to see.  Sister Mary Ignatius Tells It All is a play written by Obie award winning American playwright, Christopher Durang. While Durang's use of parody and criticism of social institutions, his work often deals with issues that may be uncomfortable to some patrons. Viewer discretion is advised.
The Actors Nightmare, having casually wandered onstage, George is informed that one of the actors, Eddie, has been in an auto accident and he must replace him immediately. Apparently no one is sure of what play is being performed but George (costumed as Hamlet) seems to find himself in the middle of a scene from Private Lives, surrounded by such luminaries as Sarah Siddons, Dame Ellen Terry and Henry Irving. As he fumbles through one missed cue after another the other actors shift to Hamlet, then a play by Samuel Beckett, and then a climactic scene from what might well be A Man for All Seasons—by which time the disconcerted George has lost all sense of contact with his fellow performers. Yet, in the closing moments of the play, he rises to the occasion and finally says the right lines, whereupon make-believe suddenly gives way to reality as the executioner's axe (meant for Sir Thomas Moore) instead sends poor George to oblivion—denying him a well-earned curtain call.