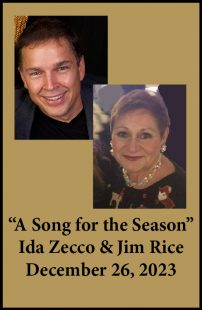 West Warwick,RI
December 26, 2023
7:30 PM

Price: $20
Buy Tickets
What has now become a seasonal tradition, share the joy of this brightly packaged performance as Ida is joined by her long time Music Director and dear friend, Jim Rice.  Ida and Jim sing selections from her successful CD "A Song for Christmas," which has sold world-wide.  It is a perfect, holiday entertainment – beautifully musical, filled with laughter and a performance that glitters with seasonal cheer!
Ida Zecco (actor/singer/comedian/director/producer/coach/educator) is a member of Screen Actors Guild. A native Rhode Islander, Ida earned her Bachelors of Music in voice at the Mozarteum University, Salzburg, Austria, and completed a Masters in Music Therapy at the Orff Institute, Salzburg, Austria.  She later acquired a Masters in Fine Arts in acting and directing at the London Academy of Music and Dramatic Arts, London, England.  She studied at the Actor's Studio, NYU and with Uta Hagen at HB Studio in New York City, New York.
Over the last 30 years, Ida has been appearing in several, one-woman performances that she has written and created, accompanied by her Musical Director of over 30 years, Jim Rice, in theaters across the U.S.  Her performances combine music, theater and stand-up comedy. Her unique storytelling offers down-home humor with heart-felt narrative. Her last two productions, "Estro-Gin & Tonic and "Thanks for the Mammaries" have been performed to sold-out audiences in the New England area and across the country.
Ida is a recipient of Best Female Vocalist Award by Independence Reviewers of New England (IRNE)
She has a long list of regional theater roles in and round New England.  To Boston audiences she is most known for her roles as Barbara DeMarco, Mrs. Shubert or as Sgt. Mikey Thomas in Shear Madness, at the Charles Playhouse. 
Other performance venues in New England include Jordan Hall, Regattabar, Scullers Jazz Club, Club Café, Stoneham Theater, Providence Performing Arts Center, Columbus Theater, and in NYC; Carnegie Hall, Alice Tully Hall, Danny's Skylight Room, The Duplex Cabaret Theater, Town Hall, and numerous stages and opera houses throughout the world, particularly in Europe.
Ms. Zecco's first , successful CD, "A Song for Christmas" was followed by a second CD release, "Better to Have Loved." which received international
acclaim from Cadence Magazine, Cabaret Scenes Magazine, InTune Magazine International and New England Entertainment Digest (NEED).
Ida is the producer of a monthly Cabaret Series at The Arctic Playhouse (TAP), West Warwick, RI, in The Cabaret Club along with Jim Rice as the house Music Director.  This series is proud to have sold out crowds every month with national and international recording arts from across the country and Europe.  You may have also seen Ida in (TAP) production of "Lost in Yonkers" in the role of Grandma Kurnitz and as Dotty Otley/Mrs. Clackett in "Noises Off."  She also directed the much acclaimed TAP production of "Steel Magnolias" and "Miracle on 34th Street:  A Radio Musical Play."
Ms. Zecco has entertained at some of the world's most prestigious venues:
Carnegie Hall • Alice Tully Hall • Town Hall • The Duplex • Mechanics Hall • Jordan Hall • Regattabar • Sculler's Jazz Bar • The Park Plaza • The Charles Playhouse • Worcester Foothills Theater Company • Worcester Forum Theater • Trinity Repertory Theater of Providence • Danny's Skylight Room. 
Music Festivals: Paris, Rome, Milan, La Scala, Spoleto, Prague, Warsaw, Tokyo, Salzburg, Berlin, Cologne, Brussels, Barcelona, Denmark, Helsinki, Beijing, Vienna, Hong Kong, Singapore, Toronto, Montreal, Vancouver