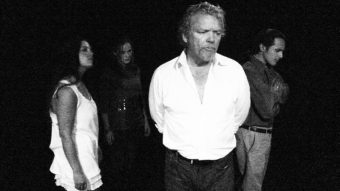 117 Washington Street
West Warwick,RI
July 16, 2016
8:00 PM

Price: $10.00
Buy Tickets
Mature Audiences
Mike Messier says an "October epiphany" lead him to construct "a movie my co-producer Tim Labonte and I could make ourselves; the parameters being four actors and one location".
Thus inspired, Messier wrote Blood! Sugar! Sid! Ace!, which began as his "inspired compilation of my past poems, un-produced plays and unfinished screenplays." Messier says, "The characters' voices quickly came alive and I was able to write new scenes and dialogues as the characters demanded of me."
As the World Series played in the background, Messier wrote the script, calling the process an experience in "divine inspiration." Labonte's unique use of sound and visual manifests into a dramatic experience quite likely to evolve your perspective. Messier says the cast "delivers performances that rivet and resonate; I could not be more please by their work ethics, passions and talents."
Runtime: 72 minutes
Genre: Drama
Mature themes and language. No nudity or violence.
CAST:
Lawrence O' Leary as Sid!
Adam Buxbaum as Ace!
Stacey Forbes as Sugar!
Jami Tennille as Blood!