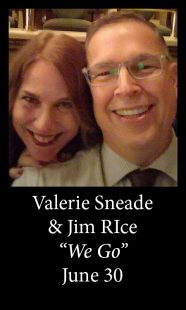 West Warwick,RI
June 30, 2020
7:30 PM

"We Go"
Dynamic duo and longtime friends, Valerie Sneade-Roy and Jim Rice, perform an evening of duets featuring Broadway showtunes and hits from the American Songbook. Roy and Rice sparkle on stage together. Join them for an evening filled with love, laughter and beautiful music that will keep you humming for hours.
Valerie Sneade is more than just an award-winning singer. She's an all around ENTERTAINER.  If you've seen her perform, you're probably already a fan.  If you haven't … well, you're in for a real treat.  You'll find yourself laughing, clapping, tapping your feet and singing along!
The Cabaret Club at The Arctic Playhouse is going VIRTUAL.  Join all of your friends from the comfort of your computer to witness this great line-up of shows.  All of these performances are open to the public, with a $20 suggested donation that can be made in advance or the evening of the performance via multiple platforms.
.
To make a donation via the website please click button:
To donate via VENMO: @thearcticplayhouse