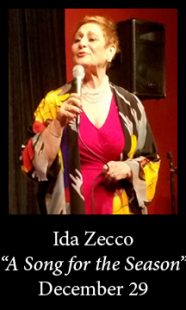 West Warwick,RI
December 29, 2020
7:30 PM

Price: suggested donation $20
Buy Tickets
"A Song for the Season"
Share the joy of the holidays with this brightly packaged performance by Ida Zecco, award-winning Cabaret and International Recording Artist. Ms. Zecco sings selections from her successful, CD "A Song for Christmas," which has sold over 100,000 copies, world-wide. It is perfect, holiday entertainment — beautifully musical, filled with laughter and a show that just glitters with seasonal cheer!
Top Ten Performances of the year —Bay Windows
Guest Artist—Mabel Mercer Cabaret Convention, 15th anniversary  gala, Town Hall, NYC
Independent Reviewers of New England (IRNE) Award Recipient for Best Female Vocalist
IRNE Award Winner for Best Group Performance in PrimaVera!
Last appearing as the Grandmother in Neil Simon's "Lost in Yonkers," director of "Steel Magnolias" and "Dancing the  Lughnasa, plusher  two, sold out, one-woman holiday show, "A Song for the Season," and "Thanks for the Mammaries" with Jim Rice at the piano, produced at The Arctic Playhouse, we are happy to have Ida as both this evening's guest artist and the host of The Cabaret Club Series.
Ida Zecco has been an international artist and educator for over 30 years. Ida earned her Bachelors of Music in voice/cello at the Mozarteum Academy of Music, Salzburg, Austria and studied with Rudolf Knoll, performing artist and member of the Vienna and Berlin Opera companies.  She was also a student of the late Carl Orff in composition and theory, completing a Masters in Music Therapy at the Orff Institute, Salzburg, Austria. Ida also performed the soprano lead in Carl Orff's Carmina Burana, under the Maestro's direction and also the lead role in Orff's Die Kluge.  She made her European debut at the Salzburg Festival in the role of Pamina in Mozart's, The Magic Flute, under the direction of Herbert von Karajan.  She later acquired a Masters in Fine Arts in acting and direction at the London Academy of Music and Dramatic Arts, London, England.  She has also studied at the Actor's Studio, NYC and with Uta Hagen at HB Studio in New York City, New York.   Ida has taught  master classes in vocal coaching and theater arts (acting, directing and comedy) at Harvard University, Boston University, Rhode Island University, New York University, University of Connecticut and Emerson College.
Ida is a and a member the Screen Actor's Guild (SAG) Her theatrical career includes leading roles in opera, drama, comedy and musical theater throughout the New England, New York City and European areas.  To Boston audiences she most known for her roles as Barbara DeMarco, Mrs. Shubert or as Sgt. Mikey Thomas in Shear Madness, at the Charles Playhouse. She has also made several TV appearances on Fox's, America's Most Wanted, and Spencer for Hire.
Her first successful CD release A Song for Christmas has sold over 40,000 copies world-wide, is followed by the CD release, Better to Have Loved… to high critical acclaim from Cabaret Scene Magazine, InTune Magazine International. New England Entertainment Digest, and Cadence Magazine.
She currently performs regularly in several of her her one-woman show produced for theater that combine stand-up comedy, monologues and music; "Estro-Gin & Tonic," "A Song for the Season," "Loessor is More: the songs of Frank Loesser" and "Thanks for the Mammaries."
Along with her music director/arranger, Jim Rice, their most recent project is "Thanks for the Mammaries: a salute to women and those who love them."  Jim Rice and Ida have also collaborated on a Las Vegas show package with a 7- piece orchestra performing a tribute to Louis Prima, Keely Smith, Sam Butera & "The Witnesses" called PrimaVera!.  PrimaVera! was anationally touring tribute band.
Ida has performed at some of the world's most prestigious venues: Carnegie Hall • Alice Tully Hall • Town Hall • Mechanics Hall • Jordan Hall • Regattabar • Scullers Jazz Bar •The Park Plaza • The Charles Playhouse •  Worcester Foothills Theater Company • Worcester Forum Theater • Trinity Repertory Theater • Don't Tell Mama's • Music Festivals:  Paris, Rome, Milan, Tokyo, Salzburg, Berlin, Cologne, Brussels, Denmark, Helsinki, Beijing, Vienna, Hong Kong, Singapore, Toronto, Montreal, Vancouver
The Cabaret Club at The Arctic Playhouse is going VIRTUAL.  Join all of your friends from the comfort of your computer to witness this great line-up of shows.  All of these performances are open to the public, with a $20 suggested donation that can be made in advance or the evening of the performance via multiple platforms.
.
To make a donation via the website please click button:
To donate via VENMO: @thearcticplayhouse