February 15th 3:00 – 6:00
February 16th 3:00 – 6:00
Auditions Location: 1249 Main Street, West Warwick, Rhode Island (The Cabaret Room)
Use the following link to sign up:
The Plot:
The five Mundy sisters (Kate, Maggie, Agnes, Rosie, and Christina), all unmarried, live in a cottage outside of Donegal. The oldest, Kate, is a school teacher, the only one with a well-paid job. Agnes and Rose knit gloves to be sold in town, thereby earning a little extra money for the household. They also help Maggie to keep house. Maggie and Christina (Michael's mother) have no income at all. Michael is seven years old and plays in and around the cottage.
Recently returned home after 25 years is their brother Jack, a priest who has lived as a missionary in a leper colony in a remote village called Ryanga in Uganda. He is suffering from malaria and has trouble remembering many things, including the sisters' names and his English vocabulary This may be the real reason he has been sent home.
Gerry, Michael's father, is Welsh. He is a charming yet unreliable man, always clowning. He is a travelling salesman who sells gramophones. He visits rarely and always unannounced. A radio nicknamed "Marconi", which works only intermittently, brings 1930's dance and traditional Irish folk music into the home at rather random moments and then, equally randomly, ceases to play. This leads the women into sudden outbursts of wild dancing.
The poverty and financial insecurity of the sisters is a constant theme. So are their unfulfilled lives: none of the sisters has married, although it is clear that they have had suitors whom they fondly remember.
There is a tension between the strict and proper behavior demanded by the Catholic Church, voiced most stridently by the upright Kate, and the unbridled emotional paganism of the local people in the "back hills" of Donegal.
The opening of a knitwear factory in the village has killed off the hand-knitted glove cottage industry that has been the livelihood of Agnes and Rose. The village priest has told Kate that there are insufficient pupils at the school for her to continue in her post in the coming school year in September. There is a sense that the close home life the women/girls have known since childhood is about to be torn apart. The narrator, the adult Michael, tells us this is indeed what happens.
CHARACTERS:
Kate Mundy – 35 – 45
Kate is the eldest of the Mundy sisters and behaves as a Mother figure as a result. As a schoolteacher, she is the only wage-earner in the house, but her reputation as 'The Gander' in the schoolroom is seen to extend into the household. She is a fiercely devout Catholic, indicated by her distaste for the pagan practices at Lughnasa and Jack's loss of faith.
Maggie Mundy 35 – 40
In place of a career, Maggie acts as the chief family homemaker. Throughout the play she is revealed as serving a deeper purpose as the "joker" of the family, defusing tensions as they arise. She cheekily challenges Kate's authority by calling her "Kitty", whilst being her confidant at the same time.
Christina Mundy – Mid-20's
At 26 years old, Chris is the youngest of the Mundy sisters, and, like Maggie, has no paid job. Gerry Evans fathered her son, Michael, seven years ago and is seen as walking in and out of their lives as he chooses. As a result, Chris fluctuates between falling into a deep depression when he leaves, yet being renewed with optimism that his next visit will be a permanent stay.
Rose Mundy – 30 – 35
Rose behaves much younger than her years, due to a developmental disability. This condition makes her particularly vulnerable to an unseen character, Danny Bradley, a married man, whom Rose believes is in love with her. However, her sisters believe that Bradley is exploiting Rose's simple nature for his own gain. She is particularly close to her older sister, Agnes.
Agnes Mundy – Late 30's
Agnes is quiet and contemplative, knitting gloves with Rose whilst also helping to keep the house in order, along with Maggie. She appears to be silently infatuated with Gerry and is quick to leap to his defence. She is very close to Rose and is her protector.
Michael Evans (main character) – Mid-20's
Michael does not appear onstage as a child, but his presence is alluded to by the other characters, while the adult Michael speaks his lines from the side of the stage. As a child, Michael is seen as being surrounded by love, since all five of the sisters dote on him. Michael also acts as a narrator, not only dictating the action as it goes on, but revealing the futures of the other characters in the play.
Gerry Evans – 27 – 32
Gerry is initially portrayed as an intensely negative character, particularly by Kate, for having left Chris after fathering her illegitimate son, Michael. However, upon his first appearance in the play, Gerry is shown to be charming and genuinely affectionate towards Chris. His current job as a gramophone salesman (like his former job as a ballroom dancing instructor) represents his freedom, in sharp contrast to the stagnant lives of the Mundy sisters. As well as having romantic feelings for Chris, Gerry seems particularly inclined towards Agnes, although the true state of their relationship remains in doubt. We find later, that Gerry has a sordid past.
Father Jack
Jack is in his late fifties. He had left home as a young man to work as a missionary in a leper colony in Uganda. Beyond this, he had been a Catholic chaplain in the British Army in East Africa during World War I. He is well respected in Donegal for his missionary work in a leper colony. However, his sudden return to the village for undisclosed reasons has paved the way for great changes. He has difficulty with his memory, often forgetting the names of his sisters or confusing them with his former house boy Okawa, with whom we are told he was very close. Jack professes a broad admiration for the pagan beliefs of the native people of Africa, and appears to have lost his Catholic faith, which may be the true reason his superiors have sent him back. This is a great worry for Kate, who is concerned about the family's reputation. Jack refers to Michael as a love child rather than an illegitimate child and says they are common in Uganda.
To sign-up for an audition time slot, please use the following link:
Looking for strong, passionate actors, and ethnicities are encouraged to audition. Please do not role type against the movie – It is very different than the play. Auditions will consist of readings from the script.

The Arctic Playhouse stands firm on the fact that strong actors with strong direction can play a role, no matter what their type, look, or ethnicity. Those interested should bring a resume (not an option) with a photo. Walk-ins are welcome!

*Performance dates and location:
The Arctic Playhouse, 117 Washington Street, West Warwick, RI
April 30, May 1, 2, 7, 8, 9, 14, 15, 16 at 7:30 pm
May 3, 10, 17 at 2:00 pm
Questions? Contact Director, Ida Zecco, ida@idazecco.com, 401-781-5231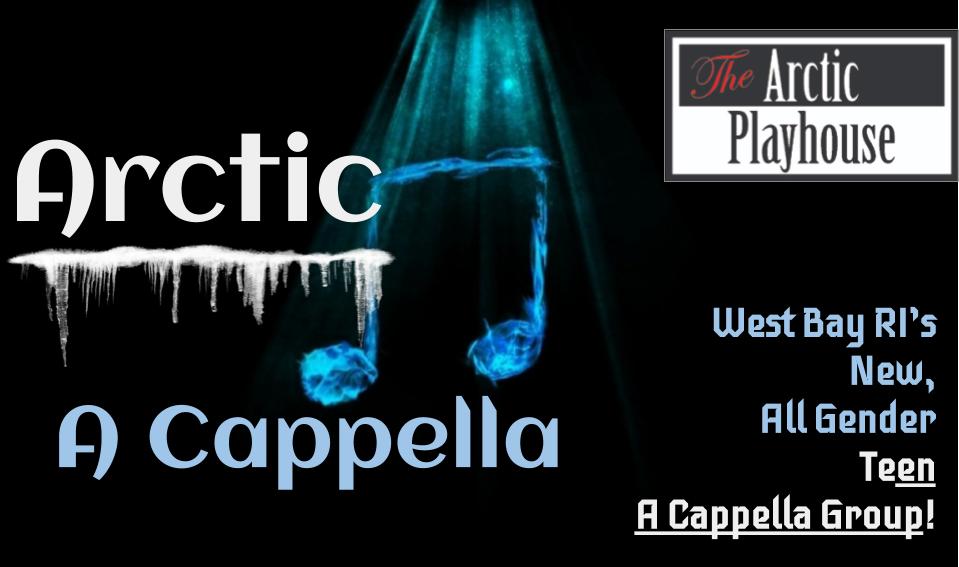 Arctic A Cappella – Teen Audition Signup
Please bring a solo excerpt to sing (anything is fine!) Please bring an accompaniment track if needed, but singing a cappella is great too!
Sign up now!: Registration Open
Teens Ages 13-19
Rehearsals Thursdays; 4:30 – 6:00 pm
Sign up for an audition slot here: AUDITION SIGN UP
Questions? Contact Music Director: Sarah "Crikkett" Young
Email: arcticplayhouseeducation@gmail.com
The Arctic Playhouse offers an a cappella ensemble open to all genders and voice parts, ages 14 to 19. Members will learn to sing a range of repertoire from classic styles to current pop hits, and even original songs written by the group! Performances will take place at an Arctic Playhouse venue with veteran a cappella director, *Crikkett Young. Crikkett leads this group of up to twenty singers in weekly meetings, varying in focus between technical workshops, songwriting/arrangement and of course rehearsals in preparation for the big show!
*Direction by Crikkett Young (Girls Rock, RI; RI Philharmonic Music School, St. Georges School)