Fall 2019 Class Offerings:
Email ArcticPlayhouseEducation@gmail.com for more information!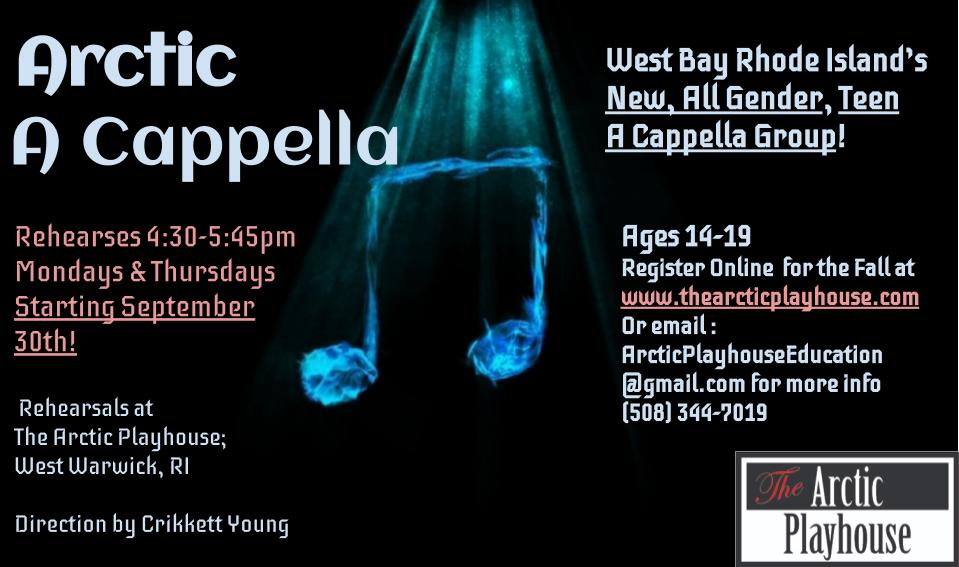 Arctic A Cappella :
Starting Sept. 30th!
Teens Ages 14-19
Mondays and Thursdays; 4:30PM-5:45PM
September 30 – December 12
(No Rehearsal Oct 13- Columbus Day or Nov 28 (Thanksgiving)
First Performance in December, Opening for The Gift of the Magi!
Direction by Crikkett Young
Register Here: https://www.signupforms.com/registrations/20108
$24 per class
SIGN UP BY SEPT 23rd FOR $25 OFF TUITION: OFFER CODE: ACAPPELLAROCKS
Starting this fall, the Arctic Playhouse offers an a cappella ensemble open to all genders and voice parts, ages 14 to 19. Members will learn to sing a range of repertoire from classic styles to current pop hits, and even original songs written by the group! The fall session performance will take place at an Arctic Playhouse venue in December. Veteran a cappella director Crikkett Young leads this group of up to twenty singers in twice-weekly meetings, varying in focus between technical workshops, songwriting/arrangement and of course rehearsals in preparation for the big show!
A CAPPELLA OPEN HOUSE SEPTEMBER 26TH @ 4:30PM!
AT 1249 MAIN ST. WEST WARWICK (PARK AND ENTER IN THE BACK OF BUILDING – CALL (508) 344-7019 FOR DETAILS
Join director Crikkett Young for a taste of the Arctic A Cappella educational program! Prospective group members will meet each other and start singing together, including warm-ups, harmony exercises, and learning parts of a simple song. There will also be an opportunity to sing a solo excerpt for the rest of the group; please bring an accompaniment track if needed. Family members are welcome to observe and light refreshments will be served. RSVP requested, email ArcticPlayhouseEducation@gmail.com.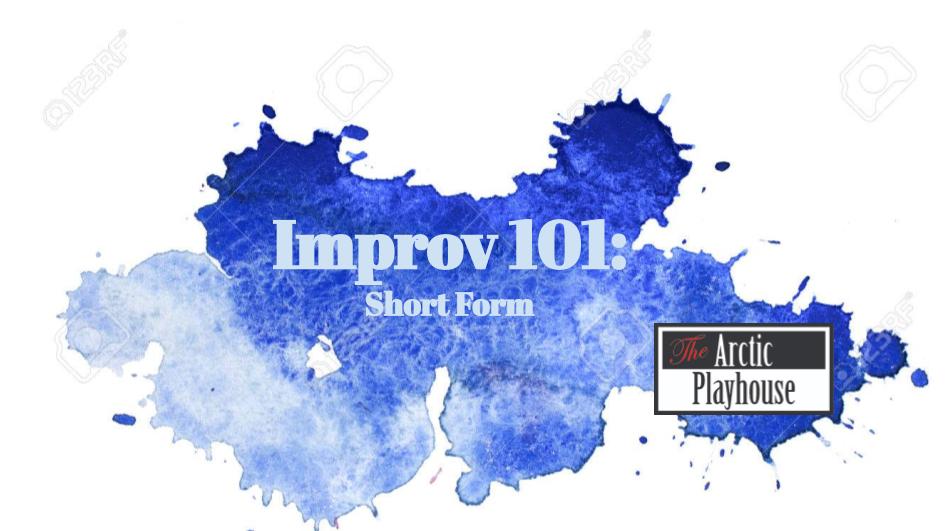 Improv 101: Introduction to Improv; Short Form
Starting October 1st
Adults and Teens Ages 14+
6 week course; Tuesdays and Thursdays 6pm-8pm
Showcase Performance Friday, November 8th at 8pm
Taught by Stefan Di Pippo
$29 per class (2 Hour Class Sessions)
Register Here: https://www.signupforms.com/registrations/20131
Sign Up By SEPTEMBER 23RD for $25 OFF Tuition!
Offer Code: BYSEPT23
Think "Who's Line is it Anyway?" Have fun learning scene work through practicing various acting & improvisation games & techniques. Through the course, we will focus on ensemble and energy building practices and will ultimately perform a full length short-form improv revue at the Arctic Playhouse. The content covered in this course is also beneficial in developing presentation & public speaking skills, and has many other applications outside of staged performance. *This class is a pre-requisite for Improv 201: Long Form Immersion

Intro to Acting: Character Development, Theory, Monologues
8 Weeks: Starts October 1st
Saturday afternoons 1-4pm
No Class November 16;
Showcase Performance Sunday, November 24th at 5pm (Warmup 3:00-4:30)
Adults Ages 18+
$36 per class (3 hour class sessions)
Taught by Jeff Blanchette
Register Here: https://www.signupforms.com/registrations/20132
Sign Up By SEPTEMBER 23RD for $25 OFF Tuition!
Offer Code: BYSEPT23
Starting this fall, the Arctic Playhouse will present a once-a-week course for up to 10 adult students. Playhouse veteran Jeff Blanchette (Breaking Legs, The Diary of Anne Frank) invite performers of all abilities and experience to attend. The course will focus mainly on character development, dramatic theory, culminating in a public showcase of student monologues.