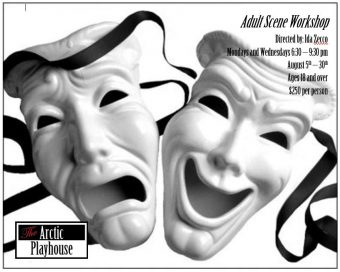 Directed by: Ida Zecco
West Warwick,RI
August 5, 2019
6:30 PM


Price: $250Buy Tickets
Share this:
For ages 18 and older
August 5 thru August 30 (performance)
Monday and Wednesday 6:30 – 9:30 PM
$250 per person – paid in full at sign up (at least 30 days before) non-refundable
Scene Study is a technique used to teach acting. Two or more actors perform adramatic scene and are then offered feedback from teachers, classmates, or eachother. Ida Zecco, AEA/SAG, professional actor/director/recording artist, will direct this 8 – session scene study, with a final performance of scenes on Friday evening, August 30 at 7:30 PM.
The result of this workshop is to Tackle scenes from contemporary and classic plays (assigned script andpartner during first class) of 2 or more characters. Understand stage objectives within a scene (what is the spine of the scene). Explore text analysis and characterizations. Learn how to maximize your rehearsal process. Simplify your performance by receiving feedback from the director and colleagues. First class is to perform a 1 – 3 minutes monologue of your choice(mandatory). Perform the scene in front of an audience