CAMPAIGN HIGHLIGHT
THE MATCHING GIFT CHALLENGE:
Stan Tabek and John J. Clarke Insurance, Inc. has announced a "Matching Gift Challenge" for thenext phase of The Arctic Playhouse Arts Center's capital campaign. "John J. Clarke Insurance is always about supporting the community in which we serve", said Stan Tabek. "We are always looking for ways to help create and build a stronger community for the future."
Corporate support is always key in a non-profit organization's fundraising campaign, but what John J. Clarke Insurance would like to do is challenge the donors through this grassroots campaign. They will match dollar for dollar every personal or small company contribution. "We would like to succeed with this campaign by looking at the community to help us support the next phase of this project."
THE ARCTIC PLAYHOUSE ARTS CENTER – CAPITAL CAMPAIGN
RAISING A COMMUNITY THROUGH THE ARTS
WHY ARE WE BUILDING A NEW FACILITY?
-Current 80-seat capacity theater located at 117 Washington Street, West Warwick is frequently selling out shows; a larger theater is needed to meet the community demands
-More space is needed to run programs & events simultaneously
-Current location is attached to residential properties – therefore, musical programs are limited
-A larger stage would allow for more robust performances, larger casts, and more intricate stagecraft -We currently do not have a cabaret stage or lobby gathering area which will be used before shows, during intermission, and for smaller, more casual performances
How Can You Help Us with This New Facility?
–Make a tax-deductible contribution. Any donation will help us create the future. A donation in any amount is greatly appreciated.
–Get Involved. Contact us to join a committee or get more information on how you can help.
–Do you know a corporation or business that would want to get involved? Help connect us.
–Come see a show! Your support of purchasing a ticket helps us in our fundraising efforts as well. We would love to hear from you!
The Arctic Playhouse Arts Center Phone: 401-573-3443 Email: info@thearcticplayhouse.com
The Vision for The Future
The Arctic Playhouse is diligently working to renovate and construct the acquired building located at 1249 Main Street in West Warwick, RI into a functional, safe, and community welcoming performing arts venue. The entire project of transforming the building will take place in 3 major phases. Once the entire project is complete, the new Arctic Playhouse will allow for 200 audience members, include balcony seating, and will be equipped with high quality lighting and sound systems. In addition, there will be a large lobby gathering area equipped with a cabaret stage for smaller-scale performances. The basement of the building will be transformed into an administrative theater support space and will be utilized for performance rehearsals and auditions. Safety and compliance upgrades to the building will also be necessary including the installation of a new fire alarm system and ADA compliant accessibility. Our vision is to serve local communities as a performance venue, gallery, educational facility, and comunity- gathering place.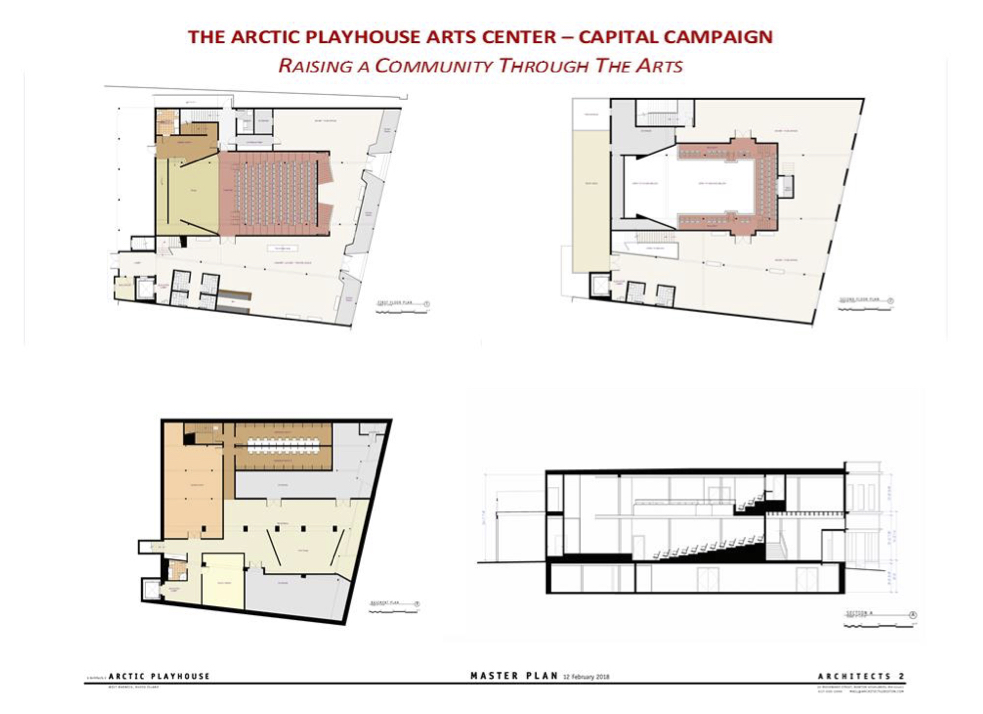 Architect: Adrien Mercure, Architects 2 General Contractor: Casa Buena Builders, LLC
ABOUT THE ARCTIC PLAYHOUSE:
The Arctic Playhouse was established in 2014 as a 501(c)(3) nonprofit organization with a mission of providing the community with affordable access to the performing arts in a variety of genres and styles, while fostering the growth of developing artists. Programs at The Arctic Playhouse include live theater productions, musical performances, film screenings, children's theater camp, and developingcommunity partnerships.